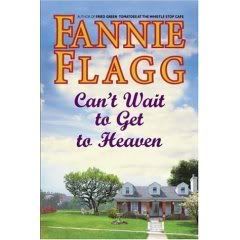 I've never read one of Fannie Flagg's books before and I need to catch up now. I saw Fried Green Tomatoes but as much as I liked it, it didn't make me want to run out and read the book. This was out on display at the library and it looked good so I took a chance even though the subject matter was potentially upsetting. I've had quite enough of death the last few years without reading a book that features the death of the main character. This turned out to be one of the best novels I've read in a long time. I've recommended it to all my RL friends who will hold still long enough to listen to me gush about it.

Elner Shimfissle is possibly the most beloved woman in town. She is nearly ninety and nobody can remember when she wasn't in their lives. Her positive outlook on life and many acts of kindness have changed the lives of many of those she has known for the better. Her death does the same. When word spreads that Elner has died after being attacked by wasps and falling out of her fig tree a lot of people find themselves re-evaluating their lives and relationships. And when it looks as if the news may have been premature a carpe diem attitude begins to sweep through the town. In the wake of the opening events various people marry, quit their jobs, move to Hawaii, fall back in love with their spouses, and go to Dollywood. And one gets to go Home.

The characters really make this book, especially since a central theme is how interconnected we all are. Rich, poor, young, old, white, black, Asian, educated professionals, and high school drop outs are all linked together by Elner, sometimes in unexpected ways.

There is a very deep section about mid-way through in which the whole issue of why are we here and the nature of God is discussed but it's done in the form of a neighborly chat with a Creator whose co-Creator serves fresh homemade cake and coffee. That's the sort of heaven I could be happy in.