After an iffy start when the Denny's I chose for breakfast turned out to have one cook attempting to deal with the morning rush I made it to meet up with Pie only 15 minutes late. Things went well after that. The weather cooperated as much as it was able to and the afternoon thunderstorm waited until the end of the day and the humidity, while nasty, wasn't at the heat exhaustion levels it had been earlier in the week.

I recognized her at once from her pictures and I gave her a hug from me and Christina. Mr. Pie is a really nice guy and didn't seem at all uneasy about meeting with yet another I.F. Perhaps meeting Bill a couple of years back reassured him?



First we toured Homosassa. The fur folk were mostly napping in the shade but the birds were strutting their stuff. Turns out Pie loves taking pictures of birds so she was in her element. Then we went to see the stars of the attraction, the manatees. I didn't get any pictures of them but Pie got some really nice ones.

The keeper wades out into the spring to hand feed the manatees during his talk on them and at one point one of the girls (they only have females there) got a bit frisky and I swear she was groping him.

Most attractions with manatees have them in a big tank. Here it's the reverse, they swim freely in the spring and there is an underwater observation area called "The Fishbowl" where you are inside.

At lunchtime we drove down the road to Weeki Wachi to see the mermaids.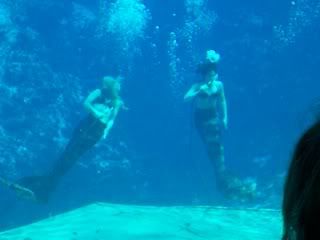 WW is an old time roadside attraction that has hung in there (barely) and is a must see if you want to say you've really seen Florida. They have an auditorium with big glass panels underwater in the spring and the mermaids perform in 74 degree water for up to an hour. When WW is mentioned in the media these days it's often as the butt of a joke but the girls who put on the shows deserve respect. Could you hold your breath for up to 3 minutes while doing synchronized swimming 60 feet down with your legs bound together by a fish tail costume?

Then finally I took them to Sonny's, a local Florida BBQ chain where we got to sit and talk for a bit before the oncoming storm convinced us we should hit the road home before it caught up to us.